Samsung Dryer Repair Houston
ASC Samsung Dryer Repair Houston provides over 25 years of reliable, professional, and fast Samsung dryer repair services.
Did your Samsung dryer quit on you? If your Samsung dryer is broken, you may be experiencing various side effects and stress levels.
Having clean, dry clothes is something many people have become accustomed to. Whether you are trying to dry, release wrinkles or avoid rough, stiff clothing – it is important to have a working Samsung dryer. If this or a similar scenario applies to you, it is time to take action.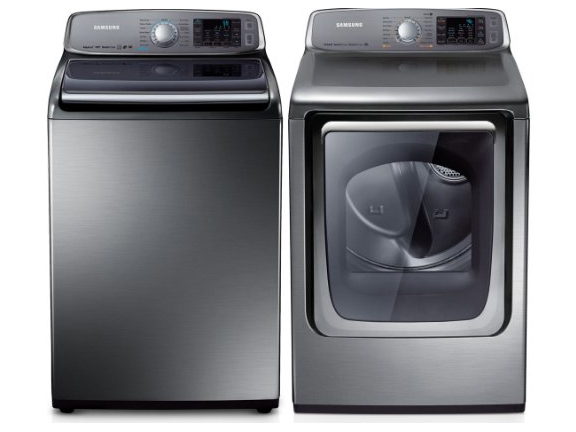 SAMSUNG DRYER PROBLEM
Currently: Your Samsung dryer works intermittently (at best) + your new hobby includes forming mountains of laundry.
WORST CASE SCENARIO : Sadly, your Samsung dryer problem isn't going to magically disappear or repair itself.
BEST CASE SCENARIO : You successfully accomplish a DIY appliance repair. If DIY fails, a Service Professional repairs your Samsung dryer at an affordable price or space is made for a new washer.
ASC SYS : Seek appliance repair help. Scheduling a Samsung dryer service will take a load off your shoulders and persuade your dryer to cooperate.
When your dryer refuses to cooperate, it can be very frustrating. If you need any dryer repair, call ASC today.
Samsung Dryer Service. Samsung Dryer Problem. Samsung Dryer Not Working. Samsung Dryer Broken. Samsung Dryer Not Drying Clothes.
Samsung Dryer Service & Repair
Need a qualified Service Professional to perform your Samsung appliance repair? We can help you! We repair all makes and models of Samsung Dryers. You can depend on us for your Samsung dryer service and repair needs. If your Samsung Dryer is broken, our experienced technicians can complete any Samsung Dryer Repair. Samsung Dryer Repair Houston.
Samsung Dryer Service

Regular dryer service is important to avoid costly dryer repairs. Samsung dryer services include regular maintenance, cleaning of lint, dryer vent, mechanisms and parts in your unit. Call for your Samsung Dryer Repair and Service today.
Why Choose ASC

Trustworthy

We are a reputable, local appliance repair company. You can trust us. Our A+ BBB rating (for the 7th year in a row) speaks to our commitment to ethical business practices and great repairs!
Same Day. No Hidden Fees. Affordable.

Call today to schedule service. Same Day Appliance Appointments are available.
There is no extra charge for weekends, evenings, or holidays. Your time is valuable and we work around your schedule to fix your Samsung Dryer.
We bring you affordable Samsung dryer repairs for all your Samsung dryer problems. ASC is known for excellent customer service.
Free Service Call

ASC will waive the service call upon your agreement to allow us to do the repair. You are only responsible for labor and parts!
Our appliance technicians will provide you with a Samsung Dryer Troubleshooting Diagnostic specific to your dryer.
Repair Dryer or Buy Dryer?
Samsung Dryer Repair Parts

We always use original and new parts. Commonly replaced parts include: Samsung Dryer Timer, Samsung Dryer Knob, Samsung Dryer Belt, Samsung Dryer Ignitor.
Consider these options along the way to figure out if repairing is right for you.
Understand The Problem and Cost:
Schedule a service call to get an exact diagnosis and estimate. This will help you decide if it is better for you to repair the unit or cut your losses.
Weigh Your Options:
Consider the age of your unit, money invested into unit and of course the cost of a new unit with comparable features.
Choose What Works:
ASC is standing by to assist you. We will do our best to make your life easier.
Samsung Dryer Repair Houston
Contact Us Today!
We will waive your service fee! Give us a call today and schedule your service call, we will waive the service call fee if we do the repair! If you have any questions, would like an estimate, or just want to say hello contact us today!